Yamaha PSR S-670
Tastiera Arranger Professionale Yamaha PSR-S670
-Prodotto nuovo ultima rimanenza, Garanzia anni 2.
Grazie a un design sorprendente e a nuovi suoni, stili e funzioni DJ la PSR-S670 è una tastiera dalle performance uniche.
416 Voci, 34 Drum/SFX kit e 480 Voci XG.
Authentic sampled sounds including superb acoustic and electric pianos, and electronic sounds perfect for today's dance music
Nuova funzione Arpeggio per un accesso istantaneo ad una libreria di fraseggi synth arpeggiati e altro ancora
230 Styles including a brand new DJ category
Two live controllers for instant control over effects and other functions, including filter, arpeggio and track mute.
Expansion Memory – add new voices, drum kits and styles for extra versatility and enhanced performance
Voci e stili autentici da tutto il mondo
€599.00 IVA inclusa
Attenzione resta solo 1 prodotto disponibile.
Description Item
Funzioni potenti per le performance live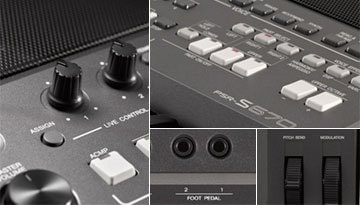 PSR-S670 è dotata di due controller live assegnabili, una rotella modulation e due input per interruttori a pedale assegnabili che garantiscono un controllo totale su voci, stili effetti e altre funzioni durante le performance live.
Un nuovo concetto di esibizione live
Gli stili DJ rappresentano un nuovo concetto di performance live grazie ad una serie di progressioni programmate di accordi. Ciò consente di avere entrambe le mani libere per suonare la linea melodica, per utilizzare i controller live o per eseguire il trigger di campionamenti audio aggiuntivi con il Multi Pad. Con la nuova funzione arpeggio, PSR-S670 suona il fraseggio mentre viene tenuto l'accordo.
Qualità sonora sorprendente per ogni genere musicale
Divertiti con suoni acustici autentici a portata di mano e suona pianoforti, saxofoni e altri strumenti, tutti con un realismo mozzafiato; oppure esplora i potenti suoni synth con caratteristiche sonore sorprendenti, per musica elettronica di ogni genere.
Lascia che la musica ti porti verso nuovi orizzonti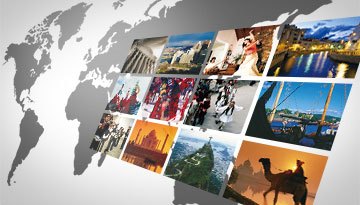 I pack Voice & Style Expansion ti permettono di personalizzare la PSR-S670 con una vasta gamma di contenuti aggiuntivi provenienti da tutto il mondo. Una volta caricati sulla tastiera, puoi accedere istantaneamente a nuovi suoni, ritmi e accompagnamenti nello stile musicale che desideri. Per una maggiore versatilità, puoi utilizzare Yamaha Expansion Manager versione 2.3 (o superiori) per collegare la PSR-S670 al tuo computer.* Expansion Manager Yamaha permette di creare set di dati di espansione personalizzati con contenuti tratti da pack differenti. Si possono persino creare delle voci personalizzate basate sui propri campionamenti. *(disponibile nel corso del 2015)
*(Please download from Support tab)
Eccezionale sul palco, in studio o a casa
I dati audio possono essere riprodotti con il lettore audio USB on in trigger utilizzando la funzione Audio Link Multi Pad, offrendo così maggiori possibilità creative. La PSR-S670 è dotata inoltre di un input AUX IN per collegare il lettore audio e di un output line dedicato che rende semplice utilizzare la PSR-S670 con un sistema PA per eventi di ampie dimensioni.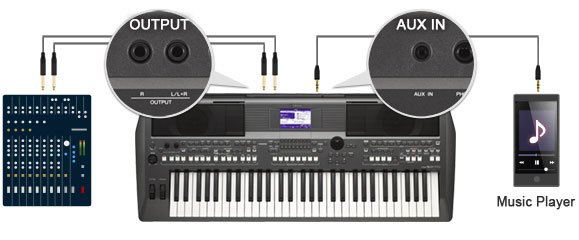 Chord Tracker
Identify the chord sequence from an audio track instantly with the Yamaha Chord Tracker app!
The Yamaha Chord Tracker app for iPhone and iPad helps practicing and performance by extracting the chord sequence of an audio song stored on your device.
PSR-S670
Body
Color
Metallic Dark Gray
Dimensions
Width
1004 mm
Height
134 mm
Depth
410 mm
Peso
Peso
8.1 kg
Keyboard
Number of Keys
61
Tipo
Organ, Initial Touch
Touch Response
Hard1, Hard2, Medium, Soft1, Soft2
Other Controllers
Pitch Bend
Yes
Modulation
Yes
Control Knobs
2 (assignable)
Display
Tipo
QVGA 4.3 inch LCD
Size
320 x 240 dots
Color
Monochrome
Language
English, German, French, Spanish, Italian, Japanese
Panel
Language
English
Tone Generation
Tone Generating Technology
AWM Stereo Sampling
Polyphony
Number of Polyphony (Max.)
128
Preset
Number of Voices
416 Voice + 34 Drum/SFX Kits + 480 XG Voices
Featured Voices
11 Mega Voices, 19 Sweet! Voices, 28 Cool! Voices, 19 Live! Voices
Compatibility
XG
Yes
GS
Yes (for Song playback)
GM
Yes
GM2
Yes
Expandability
Expansion Voice
Yes (approx. 32 MB max.)
Editing
Voice Set
Part
Right 1, Right 2, Left
Types
Reverb
44 Presets + 3 User
Chorus
71 Presets + 3 User
DSP
283 Presets + 10 User
Master Compressor
5 Presets + 5 User
Master EQ
5 Presets + 2 User
Arpeggio
Yes
Preset
Number of Preset Styles
230
Featured Styles
208 Pro Styles, 12 Session Styles, 10 DJ Styles
Fingering
Single Finger, Fingered, Fingered On Bass, Multi Finger, AI Fingered, Full Keyboard, AI Full Keyboard
Style Control
INTRO x 3, MAIN VARIATION x 4, FILL x 4, BREAK, ENDING x 3
Other Features
Music Finder
1,200 Records
One Touch Setting (OTS)
4 for each Style
Expandability
Expansion Style
Yes
Compatibility
Style File Format, Style File Format GE
Preset
Number of Preset Songs
4 Sample Songs
Recording
Number of Songs
Unlimited (depends on the drive capacity)
Number of Tracks
16
Data Capacity
approx. 300 KB/Song
Recording Function
Quick Recording, Multi Track Recording
Compatible Data Format
Riproduzione
SMF (Format 0 & 1), XF
Recording
SMF (Format 0)
Preset
Number of Multi Pad Banks
179 banks x 4 Pads
Audio
Audio Link
Yes
Registration
Number of Buttons
8
Control
Registration Sequence, Freeze
Lesson/Guide
Lesson/Guide
Follow Lights, Any Key, Karao-Key, Your Tempo
Demo/Help
Demonstration
Yes
Overall Controls
Metronome
Yes
Tempo Range
5 – 500, Tap Tempo
Transpose
-12 – 0 – +12
Tuning
414.8 – 440 – 466.8 Hz
Octave Button
Yes
Scale Type
9 types
Miscellaneous
Direct Access
Yes
Voices
Harmony/Echo
Yes
Panel Sustain
Yes
Mono/Poly
Yes
Styles
Style Creator
Yes (No Step Edit)
Style Recommender
Yes
OTS Information
Yes
Songs
Song Creator
Yes (No Step Edit)
Score Display Function
Yes
Lyrics Display Function
Yes
Multi Pads
Multi Pad Creator
Yes
Audio Recorder/Player
Recording Time (max.)
80 minutes/Song
Recording
.wav (WAV format: 44.1 kHz sample rate, 16 bit resolution, stereo)
Riproduzione
.wav (WAV format: 44.1 kHz sample rate, 16 bit resolution, stereo)
Storage
Internal Memory
approx. 2 MB
External Drives
USB Flash Memory (via USB to DEVICE)
Connectivity
Headphones
Yes
FOOT PEDAL
1 (SUSTAIN), 2 (VOLUME), Function Assignable
AUX IN
Yes
LINE OUT
L/L+R, R
USB TO DEVICE
Yes
USB TO HOST
Yes
Amplifiers
15 W x 2
Diffusori
12 cm x 2
Alimentazione
PA-300C or an equivalent recommended by Yamaha
Consumo
15 W
Auto Power Off Function
Yes
Included Accessories
Owner's Manual, Online Member Product Registration, Music Rest, AC Adaptor(may not be include depending on your area. Check with your Yamaha dealer.)